« The Compact Efficient Art Studio | Main | The Compact Art Studio, Part 3 »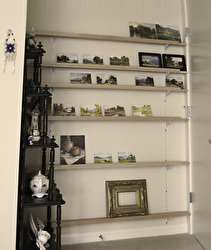 Behind-the-door drying rack
In my last blog I wrote about the choice of easel and furniture in a small art studio. Today is about "the drying rack", which serves several purposes. In many ways it is the nerve center of my studio, and it really helps me stay organized. In this studio the shelves are on the wall behind the door. In a prior studio (when I was young and willing to climb ladders) I had one long shelf near the ceiling. Behind the door is much more accessible.
What the shelves do:
They keep the oil paintings fully visible/accessible, making it easier to determine needed adjustments
They offer a clean and safe place for paintings to dry
They provide a sorting area for paintings that need to be photographed, varnished, or selected for exhibit.
It is handy storage space for unframed paintings.
Location:
Behind the door on that otherwise wasted expanse of wall with 4" of available depth.
Materials:
4" brackets (not available in any of the big-box hardware stores. I found these online at www.cabinetparts.com 4" brackets are a little pricey, but they allow the shelves to be adjustable.
Two 6' standards from Lowes or Home Depot. Brackets and standards are usually interchangeable between brands, so buying standards from Lowes or Home Depot saved a lot of money.
A doorstop in the door hinge guarantees the door cannot bash the shelves and paintings.
1x4"x5' oak was used for the shelves. Oak is expensive, but it does not warp like pine does.
½ x1" cheap trim was glued and tacked to the front of each shelf to keep things from sliding off.
Prior to installing these shelves, I stored my small paintings in little plastic letter organizers from Office Depot. It worked well as an extremely compact drying/storage device, but I could never see the paintings.
I cannot concentrate in a cluttered environment. However, I know many artists who would go nuts unless they could have all their artsy stuff scattered about, exuding creative energy. How you design your compact studio has to be determined by how you work best. Google "art studio design" and you will find sites that offer many more ideas.
Next week: Frame storage in the closet.
Topics:
Compact Studio
|
Creativity
|
Efficient Studio
Related Posts:
Comments
1 Response to The Compact Art Studio, Part 2
Lee McVey
via branchflower.net40 months ago
Your behind the door drying rack is a great idea. Thanks!
* indicates a required field