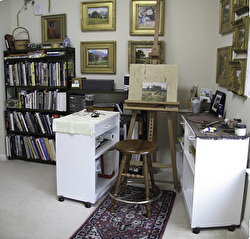 Compact efficient art studio
In 2011 and 2012 I posted 4 illustrated blog entries about my compact efficient art studio. Artists continue to find them useful, judging by the web stats. The simple uncluttered style of my studio remains very functional. However, I made one tweak: To prevent paint from spattering as I work on 18x24" panels, I got a new 22x26" pressed board support that goes on the easel tray behind the panel (or canvas).
To read all four posts about my small art studio, scroll down to December 2011 and March 2012.
My efforts were not very productive to find links to other bloggers who describe their space efficient studios. However, these were interesting:
www.finearttips.com/2011/05/creating-art-in-small-studios is Lori McNee's article on small studios, her own and those of other artists.
http://www.emergencyresponsestudio.org This is just too good to ignore: A converted FEMA trailer does not fit my definition of a "compact art studio", but the provocative concept may work for some artists in a modified form. The huge skylight would cause difficulties for artists working in color because of variations in light intensity caused by clouds passing the sun.
http://pinterest.com/apidraper/creative-art-studios Some useful storage ideas. When purchasing storage containers, realize that square is more space-efficient than round.
For all you bloggers looking for a valuable topic, compact and efficient art studio is a worthy subject. Even if you have just one thing in your studio that makes it work efficiently, post it. A friend of mine lived in her van, which was also her art studio. It was a very efficient (but not too comfortable) microcosm with floor-to-ceiling well-anchored storage.
May 28, 2013 Adding ideas as I find them:
Pinterest is a surprising resource. Google "repurposed armoirs" or some similar phrase.
While these armoires have been converted for craft use, they provide plenty of ideas for painters.
Comment on or Share this Article →
Judging by the spike in readership during the compact art studio series, there is a lot of interest in art studio design. I hope other writers pick up on this and publish their successful solutions for efficient use of space. Meanwhile, I apologize for dropping the ball—I was going to list a few untried (by me) ideas. Here they are:
Remember those huge television armoires? For an artist who has inquisitive toddlers and no designated space in which to work, I would think the interior of a big tv armoire could be converted to easel/painting space without too much difficulty. Under-counter lighting could provide necessary light. A tabletop easel could sit in the tv space. Attach some wire or plastic racks to the interior walls to hold supplies. A lock on the cabinet would make it child-proof. For artists who sit, an old computer armoire might be better.
For artists lucky enough to have a room in which to work, but challenged by kids or pets, a Dutch-door (the top half open, bottom half closed) can allow contact and communication with less under-foot distraction. There are other types of door barriers that are more transparent and can accomplish the same thing.
That's it for my compact studio ideas. Next blog is about my all-time favorite art blogger. Find out who that is and why!
Comment on or Share this Article →