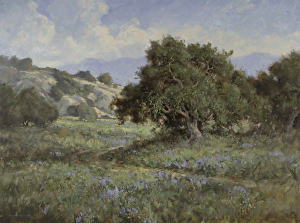 It's one thing to write content that people want to read. It's entirely different to get them to read it. I didn't think a sufficient number of people were reading my e-newsletter and blog to merit the time I put into them. Discouraged and burned out, I stopped publishing them.
Cool. With more time on my hands I could do other things. But gradually my web stats declined. Fewer new people visited my website. When it became apparent that my Search Engine Optimization had declined to the point of invisibility, I became very uneasy.
There are so many worthy bloggers addressing subjects of interest to artists. At the foundation of why I quit writing was the question, "What can I possibly contribute to the art blogosphere that isn't already being written?" Content should give the reader something worthwhile. It should make the reader want more insights from that particular writer. I did not think I could provide anything new.
Reviewing the popularity of my old posts showed that some have staying power over the years, while others do not. Knowing which topics stand the test of time offers ideas for new or expanded posts. It is, at least, a starting place.
Some time ago I bookmarked copyblogger.com. Two articles are especially relevant to my current malaise: No Blog Traffic? Here's a Simple Strategy to Seduce Readers and Win Clients made me think about who my readers are and what they want. After all, I am writing for them, not for myself. The author, Henneke Duistermaat, suggests identifying your single most dedicated fan who can be one person, a composite of several people, or entirely fictitious. Write for your one most dedicated fan. Henneke presents a series of questions to help you identify what your special reader wants. Click on the article--it is worth your time to read it.
The second article, 50 Can't-Fail Techniques for Finding Great Blog Topics is especially valuable to one who has tired of blogging. This is not a ready-made list of topics. Carol Tice presents a series of techniques for finding interesting topics. Number 23 is "Talk about your mistakes" which is why I am writing this article. Neither of these articles was written for artists: Copyblogger is business oriented. It is applicable because your website is a business representation of you, the artist. They have tons of free articles and e-books that can regenerate your interest in writing about your art.
Judging by the number of abandoned blogs I see on artist's websites, burnout and loss of direction are common. Blogging exposes your website to search engines, elevates your level of expertise to people looking at your work, and helps you to define your theories about art. Learning how to write an interesting blog, headline or e-newsletter will make a difference in how you are perceived by other artists, collectors and galleries.
To put things right, I will resume blogging. It will not be as often as is recommended. To compensate, I will aim for content that will have a positive impact on readers. I will try to not be disappointed if not many people read it. Among them will surely be my most dedicated fan—the one for whom I write.
Comment on or Share this Article →