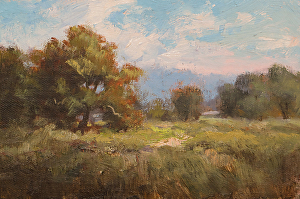 In the prior post, Why I Paint, I discussed some of my environmental concerns and how they affect my landscape paintings. Because the environment is such a controversial topic, I rarely address it verbally in relation to art. I neither want to offend nor argue. Above all, I want to protect my privacy.
How do you deal with controversies in your art? Do you hold back? Do you expose all of your motivations? Do women withhold more information than men when talking about their art? Is it a generational thing? Do today's young artists speak more freely than did artists 50 years ago?
The internet has given us uncensored freedom to write. No one can interrupt us or throw rotten tomatoes. We can delete critical comments like they never existed or we can take our time developing a well-thought out rebuttal. Either way, we can defuse controversy on our websites. It is a little more difficult in person.
Maybe you size up your audience (whether one person or many) before deciding how much of yourself to reveal. Conversation is easy enough when people agree, but how do you handle a confrontational visitor at your gallery opening who has just listened to your talk and vehemently disagrees with you--loudly?
Most artists have a fairly set patter that has served for many years. It reveals enough to make the collector feel included. But in the last few years I've questioned whether I've been lying by omission to my collector base: I haven't given them the deeper reasons.
My dialogue with the painting is critical during the creation of the work. When the painting is no longer in my home, the dialogue is finished. The dialogue the collector has with the painting is equally important. And if collectors take paintings home only to find that all they can think about when they look at the painting are the things I said—then I have gone too far. How far can honesty go before the artist's truths dominate the conversation a collector might wish to have with the painting?
How much thought have you really given to why you paint? How do you explain such personal motivations to a stranger? For decades, statements like painting is the language in which I am most proficient, or oil painting is all I wanted to do was all I was willing to give. No one can dispute those two statements. I'm not brave. I don't know how much privacy to let go of. How much do other artists reveal about their deepest motivations, and their political and social concerns that influence their artwork?
Comment on or Share this Article →