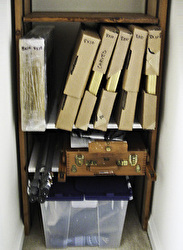 Shelves for picture frames
Frame storage should be designed to allow frames to set on end, not stacked. I built shelving in the studio closet, which has 2' of inaccessible space at one end. Were it being used as a bedroom, that is where you would stuff your off-season clothes.
Materials:
Two 1x12"x5' pine boards
Four 6' standards
Clips for the standards (four for each shelf)
Enough 1x12" pine to make as many shelves as you need
Wood block (scrap) the same thickness as your floor molding—use the block as a spacer between the wall and the board at the top, so it stands vertically.
I went cheap on these shelves, using materials left over from another home. It would be a more useful system had I purchased plywood and made the system two feet deep, completely filling the available space.
One nice thing about these shelves is that they fit in their space by pressure. Nothing is attached to the walls, so if you rent your home you can install this without damage. In a different home we used this same system running the width of a 5-6' closet—that held lots of stuff!
I specialize in paintings 8x10" and smaller. 12" deep shelves accommodate frames this size. If you work larger you will require deeper shelves made of plywood.
While on shelves, keep your frames padded. I sew old bath towels into bags, and while you cannot see which frame is inside, that frame will never get scuffed. If the frames are new, the corner protectors are sufficient.
Many artists will frown on this, however I currently paint in only two sizes. This is very economical in both space and money: My frame inventory never needs to be as large as my painting inventory. Paintings can be shifted in and out of frames as needed for exhibit. During good economic times, and when I had a grand studio, I worked in more sizes. That just doesn't fit my life now.
Next week: While I wrote this series on the "Compact Studio" I thought of other ways artists could make extremely limited spaces work. I'll write about those in case you find them useful.
Comment on or Share this Article →